Anu Acharya has been at the forefront of genomics for over 20 years. She is the Founder and CEO of Mapmygenome, a company that is a pioneer in the field of personalized and preventive healthcare by making personal genomics tools available to the masses. In an interview with BeBeta Consultancy, Anu retraces her journey from graduating from IIT Kharagpur to entering the field of genomics as an entrepreneur.
Genomics as a potential area to explore
Anu moved to the US to complete her Masters and that's when she explored various new ideas and decided to go further into Genomics as the Human Genome Project was getting completed. She moved back to India in the early 2000s and that's when she founded her first company, Ocimum Bio Solutions, with Subash Lingareddy and Dr Sujata who was an expert in Genomics.
It was a new field not only for her but also a not so explored area in India. Forming a team was equally difficult since not many knew Genomics or BioInformatics. She had at least one co-founder who was an expert in Genomics but Anu couldn't expect them to give in more time from their full-time job. So they had to build the company from scratch.
Hiring people for Genomics was difficult initially
Out of 2000 applicants, only 1 was from BioInformatics and had the right skill sets

Anu Acharya on the difficulty of hiring in the early days
She overcame this difficulty with the help of Dr Sujata and Dr Sam who were in this field from a long time. They knew many people they had worked with who had returned to India and were trained in the field of Genomics. It was a lot easier to hire people for software from India.
They spoke with some of the US universities and created a course in this field that would give a certificate at the end. This worked both ways since they were now educating and building talent in this field and at the same time, they could recruit people from that pool of talent that they created.
It was an interesting experience in the very early days.

says Anu Acharya
It wasn't easy finding people even outside India. It was a long journey for Anu where she learned and also taught students for a course in Genomics.
Change of strategies over the period of time
Till 2005, they didn't raise any funding for their start-up except for what they could get from their family and friends who were invested in their idea.
Even that came in drips and drops. Didn't came as planned.

Anu Acharya recalls
It was a very difficult and different time then where their focus had been on some form of revenue. Initially India was supposed to be the back end and US was the front end. There were lots of changes in the business plan that they had decided. They couldn't carry out their original plan with the change in the Patent law but their essence of enabling R&D always held through.
Anu fondly recalls the early days in 2002 when they found one company in Hyderabad when they were able to get them on board as customers and had to deliver within a month.
It happened a lot in the early days when we had to literally stay up all night and get things done as promised to the customers. And that's how we built up the company and the revenue initially.

Anu Acharya on her initial days
After four to five years, they got an interesting offer to acquire some of these companies that were supposed to be their biggest customers and that's how it changed their strategy over the next few years.
Constantly re-evaluate your plan
One thing that every Entrepreneur should keep in mind is that nothing works according to the plan but even then you should have a plan because if you don't have a plan, you won't know which direction to go to.

Anu Acharya on not everything works according to the plan.
Anu says she was always aware of this and that's why she never got bothered when the plan that they set forth with needed revisions and evaluations from time to time.
That's how it works in the real world. It doesn't work by the spreadsheets. On spreadsheets, you can assume certain variables but cannot capture the "googlies" that comes on your way in the real world.

Anu Acharya
But at the same time, Anu believes it is important to make a plan because it at least helps you with whatever variables you know are predictable. An important thing that every entrepreneur does is constantly re-evaluate the plan and analyze what are the business environments that are changing.
For an entrepreneur, I think, what you are trying to do is find an opportunity in times when most other people would not have or would probably have given up.

Anu Acharya says
How she began Map My Genome
When they began Ocimum, they were mostly delving in the research side where they were selling to big Pharmaceutical and Biotech companies and also research organizations outside of India.
One of the companies they had acquired was Gene Logic which had big databases which were used by almost every big player in the Pharmaceutics. She observed that Indians were nowhere to be found when the ethnic composition of the databases was analysed. That was the case with most databases found in 2010.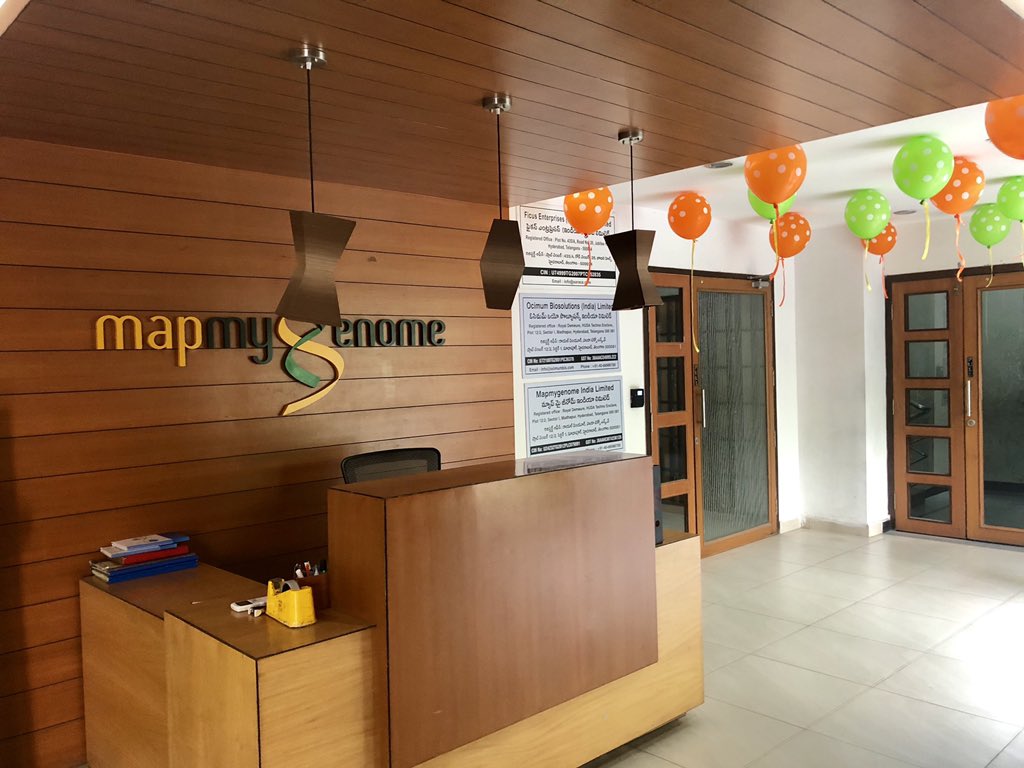 As they moved along the lines of personalized or precision medicines, they understood the differences in populations and that different population responded differently but if there isn't enough data then the research and production of medicines are oriented towards only a specific large population whose data was there with them.
That was the first motivation we had, to do something for the Indian population and the second was the fact that India was spending too less on health industry.

Anu Acharya on the reason she started Map My Genome
Anu wanted to give people the power to be able to take care of themselves. Prevention is the strategy that they used for starting Map My Genome in India.
In the last 6-7 years, we have seen a great change in the behaviour of people where they have gone from "jo hona hai voh ho jayga" to realizing that you have to take care of yourself.

Anu Acharya on the changes in people's attitude towards their health.
From being a Physicist to an Entrepreneur
Before getting an admit to IIT Kharagpur, Anu knew she wanted to become a Physicist. But over the years while she studied Physics, she realized it wasn't what she wanted to do forever. She believes she would have made an okay Physicist but she evaluated whether she wanted to be a mediocre Physicist; or whether she could be good at something that she enjoyed and could make a living out of that.
It's not an easy thing to start a company. It's not the most glamourous thing either. But if you're looking for something that can make an impact on the world; and you are able to withstand the ups and downs then that's an area that you should go into.

Anu Acarhya on the hype around start-up.
Entrepreneurs have to answer to a lot of people
Being an entrepreneur you are answerable to your board of directors, employees, customers. It all ties back to you. Anu believes that entrepreneurs are the most responsible for the company they've started.
Every entrepreneur needs to take a few breaks so that they can be recharged. You will definitely be stressed from a lot different areas but make sure that your productivity and stress level doesn't go beyond a certain level.

Anu Acharya on the importance of having a balance.
Three important things to account for before starting a company
Anu advises that before starting a company, you need to have an idea that you can dream of. She says having a team to be able to execute the idea is also very important. Thirdly, you should know how lean the organization is. You also evaluate if there is a real need for your product and how to create a market for that if there isn't one already. She believes it is very hard to survive if you can't sell your product. That's one thing that you constantly need to evaluate.
Capital is very important but it isn't the thing that you live for. The problem has been, that in the last five-six years, everybody talks so much about capital raises and evaluation; that they forget that they are running a company because they are pursuing an idea; and that they are pursuing an idea because they want a change in how things were done.

Anu Acharya on capital for your start-up.
Managing competition while you are a pioneer in the field
When Anu had started Ocimum, there were at least 20 companies in the competition in Hyderabad itself. She says there were new companies constantly coming up during that time. But Anu wasn't worried about them.
There is a need for real competition in the market. It improves a lot of things like your talent pool.

Anu Acharya on competition.
Anu says that there are sometimes opportunistic players which bank on someone else's success. If they aren't sincere enough then they don't last long in the race.
"Although if there are real competitors, then it's always good for the industry, " Anu says. She believes that there's a large market and there's a lot of work that still needs to be done.
If we are the only company then I would be very worried. That means the market isn't growing. Some of them automatically fall out. The ones who survive will either have the right product mix or they have a lot of money.

Anu Acharya on embracing competition
Building a brand
She shares that the companies that survive the competition distinguish themselves from others with their mix of services. They start addressing different segments of the market and eventually are known for slightly different things than other companies. They start to develop a distinctive recall for the brand.
Map My Genome has achieved this by working with many big brands like Apollo Clinic, Fortis Hospital, and many others. They have created trust among the medical community.
One way is to spend a lot of money on marketing and build your brand. The other way is to find people who need it and are in sync with what you are doing; therefore they will help you in building your brand.

Anu Acharya on building your brand
You can watch the detailed video interview of Anuradha Acharya where she opens up about more things.